About us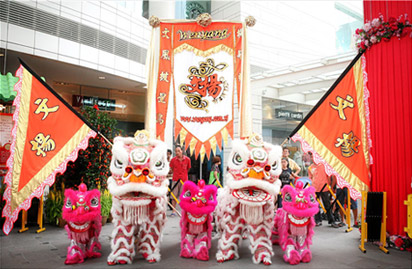 This is the official web site of Wenyang Sports Association (Singapore). Due to our international reputation, Wenyang has been registered as a Trademark. The troupe is both active in Community Centre events as well as public performances and competitions. Over the years, Wenyang had clinched more than 80 awards and are proud to announce that we now have 21 Championship titles to our accolade. Our members come from various walks of life and we also have many youths who learn the traditional sport from us as well. In fact, we also have junior teams within the troupe. All our members are well-trained and dedicated. Most of them feel for the sport and have personally benefited from the experiences, both the tough and the fun times, and found the skills useful in life and for life.
In 2008, Taiwan Wenyang Lion Dance Troupe was successfully established and was our first oversea expansion.  2 years later, Malaysia Senai Wenyang Dragon and Lion Dance Association was added to our list as well. Ming Sheng Wu Shu Association was renamed to Philippine Mingsheng Wenyang Sports Association in 2012. In the same year, China Hainan Wenyang Lion Dance Troupe was established. The sense of belonging is strong in Wenyang family and many friendships have been forged.  A great camaraderie always exists in our Wenyang family. WENYANGIANS is the name we call ourselves.  

Our Team
The Dragon Dance Team

The Northern Lion Dance Team

The Southern Lion Dance Team
Lion and dragon dance is a traditional sport that is both rich in culture and the training required for the sport instills team work, discipline and promotes healthy living. It is a sport that trains the mind and the body. Members develop skills and spirit that is even useful in everyday life. Our troupe and members know the benefits of the sport and are passionate in promoting lion and dragon dance. Our active participation in performances and competitions are testimonies to that fact.